Any hope that the COVID-19 pandemic would be fading this summer, allowing for a return to "business as usual" in the fall, has been dealt a severe blow by the highly transmissible Delta variant and rising coronavirus cases in all 50 states.
What some are calling a fourth wave of COVID-19 infections may have business owners feeling like they are on an emotional rollercoaster they wish they could get off of as they are confronted with tough choices on vaccine mandates and return to office policies.
In the first week of August hard decisions were being announced across the country:
There is hope on the horizon as rising hospitalizations – every state except for Rhode Island has reported a rise in its 14-day change – seems to have spurred vaccine demand as all 50 states are reporting rising vaccination rates.
Return to the Office Delayed by Delta
Amazon, which is not mandating that employees get the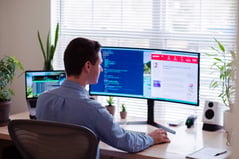 COVID-19 vaccine, had planned to have corporate workers back in the office as of September 7, 2021, but that return has now been delayed until January 3, 2022.
In an email to employees, GeekWire reported, that "Amazon's guidance for returning to work has evolved in response to changing public health guidelines and employee feedback".
Amazon was not the only company shuffling return to work plans because of surging Delta variant infections:
Wells Fargo, one of the country's largest retail bankers, announced on the same day as Amazon that it was delaying its corporate return to office from September 6, 2021 until October 4, 2021 because of "rising COVID-19 case rates around the U.S.".
Also, on that same day, investment management firm BlackRock told staff it was delaying its return to office from early September until October, 2021.
Earlier in the week, Microsoft had announced that its full reopening of U.S. offices was being delayed to at least Oct. 4, 2021 because of the "fluid conditions around the pandemic", according to The Wall Street Journal.
In late July, Google extended its work-from-home policy for all its offices globally until October 18, 2021, instead of reopening in mid-September.
Apple also pushed its return to office date until October instead of September.
Some Companies are Mandating Vaccines for Workers
Unlike Amazon, Microsoft is mandating that employees, vendors and guests show a proof of COVID-19 vaccination to enter U.S. facilities.
Other companies opting to mandate vaccines for employees include:
Vaccinations: the Carrot and the Stick Approach
Some companies are not opting for COVID-19 vaccine mandates but are offering incentives for employees to get the shot.
Tyson Foods was taking the "carrot and stick" approach by mandating all employees get the vaccine and offering $200 to fully vaccinated frontline team members.
"As people have heard, new variants of COVID-19 are more contagious, more deadly and responsible for most cases in America today. In some communities, doctors and hospitals are once again overwhelmed, while the U.S. Centers for Disease Control and Prevention is reporting nearly all hospitalizations and deaths in the U.S. are among those who are unvaccinated. It is abundantly clear that getting vaccinated is the single most effective thing we can do to protect ourselves, our families, and our communities," Tyson CEO Donnie King wrote in a company memo. "So today, like many other businesses, we are taking steps to protect all of these things by requiring all U.S. team members to be fully vaccinated."
Tyson's vaccination schedule gives a glimpse of how a company can phase in a vaccine mandate with the following setup:
All Tyson leadership, officers and above, by September 24.
All team members in office by October 1.
All other team members by November 1.
All new hires must be fully vaccinated prior to their start date.
"To our frontline team members: once you are fully vaccinated, and verified in our Vaccination Verification Program, you will receive $200 as thank you for doing your part to keep us all safe, subject to ongoing discussions with our unions," wrote King. "We did not take this decision lightly. We have spent months encouraging our team members to get vaccinated – today, under half of our team members are. We take this step today because nothing is more important than our team members' health and safety, and we thank them for the work they do, every day, to help us feed this country, and our world."
Perhaps one of the biggest incentive programs comes from steelmaker Cleveland-Cliffs Inc. where workers will receive bonuses of $1,500 if at least 75 percent of the employees at their work sites receive the vaccine by Aug. 21, 2021; and $3,000 bonuses if 85 percent of the employees are vaccinated.
Companies Risk Losing Workers in Tight Labor Market
Companies are trying to thread the needle between preventing workplace coronavirus outbreaks that could affect employee health and productivity with the threat of losing workers with vaccine mandates in a tough labor market.
"Firms using a lighter touch risk workplace outbreaks. Those mandating shots risk losing workers in a tight job market," wrote The Wall Street Journal.
Walmart, for example, is hoping that executives getting vaccinated will influence frontline workers. The company is offering $150 bonuses to employees who get the shot.
"In a tight job market for hourly workers, Walmart is competing for employees with Amazon.com and others that aren't mandating the vaccine," said The Wall Street Journal.
For some employees, after 18 months of working remotely, they are reluctant to return to the office and the tight labor market is allowing them to call the shots.
"Remote is going to be the new signing bonus," Marc Cenedella, founder and chief executive of job-search site Ladders told The Wall Street Journal. "Instead of dangling, 'We'll give you $10,000 if you sign for this job,' it'll be: 'Instead of having to commute 35 minutes every day, go to work, and get in your car and drive 35 minutes home, you can work from your home office all the time.' "
Companies in the hospitality industry have already faced work shortages this summer as the economy fired back up.
The Wall Street Journal reported in late June that some "operators of hospitality businesses are battling back with tactics ranging from higher pay, signing bonuses and perks for workers to technology such as tablets where restaurant customers self-order and self-pay."
In these tough times Employer Flexible can be your PEO partner that helps you navigate the tough choices from return-to-work policies to vaccine mandates and incentives.
Contact Employer Flexible today to find out how we can help your small to midsize Texas-based company meet the challenges of 2021 and beyond.