As we ended 2017, we all witnessed an incredibly public conversation about sexual harassment—one that included prominent figures in politics, entertainment and even the news media. Unfortunately, sexual harassment and sexual misconduct are an all-too common occurrence in the workplace. And for many employers, the topic is one of great concern.
In fact, at Employer Flexible, we are regularly asked how employers can take proactive measures to prevent sexual harassment on the job. From our perspective, being proactive starts with creating a culture of transparency and setting the tone from day one.
No matter the size of an organization, allegations of misconduct must be taken seriously. Issues of harassment and misconduct not only impact employees and morale, but they can also have serious fiscal consequences if the issue escalates. That's why businesses of all sizes need to ensure they have the right resources at their disposal through their Professional Employer Organization (PEO)—particularly one that can effectively advise and support senior leaders, while providing day-to-day HR guidance and training for staff.
A PEO is a firm, like Employer Flexible, that provides services under which an employer can outsource employee management tasks, such as employee benefits, payroll, human resources and much more.
Mandy Brock is an HR Consultant at Employer Flexible that supports organizations with a variety of issues, including harassment. "The best way to ensure sexual harassment cases are handled correctly is to make sure you've got the right PEO in your corner," Brock says. "Employer Flexible is the most proactive PEO from onboarding employees to ongoing training and support."
Here are five ways businesses can better prepare themselves to prevent potential sexual harassment allegations.


1. Clearly explain your sexual harassment policy in the employee handbook.
According to Brock, the most important place to begin is having thorough language with clear explanations in the employee handbook. Though most companies include a brief section on sexual harassment in their handbooks, sexual harassment and workplace misconduct must be clearly outlined during onboarding—and that goes for all levels of employees. This includes outlining what constitutes sexual harassment as your company defines it. Every employer is different and it's essential to vocalize and reinforce your zero-tolerance approach to sexual harassment from day one. Brock adds that "this sets the tone early that harassment will not be tolerated within the business."


2. Provide proactive training to create a common understanding.
While stating the policy in the handbook may seem like enough, proactive training on the topic is advisable. "Yearly sexual harassment and prevention trainings are becoming standard in many businesses today," Brock explains.
Providing workplace training, such as that offered through a third-party like your PEO, creates an opportunity for your team to have an honest dialogue about sexual harassment. In other words, through training you can more clearly define the lines of harassment and what constitutes acceptable workplace behavior. Many PEOs offer some type of training to reinforce the company's policy. Our HR team at Employer Flexible regularly works with businesses to provide training via in-person and/or online training.


3. A healthy culture starts with the C-suite.
One of the many roles a CEO has in a company is setting the tone of the business and workplace. In leading by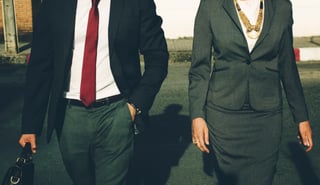 example, a good business leader can foster a healthy work environment where all types of harassment are taken seriously.
According to Brock, CEOs that are disconnected from the day-to-day happenings within their organizations often see more employees come forward with complaints. In other words, it's essential that the C-suite pays attention and keeps lines of communication open throughout the organization—no matter the size.


4. Rely on the HR professionals to investigate.
Based on Brock's experience, it's essential that employees and leaders cooperate with HR fully and not try to take matters into their own hands. "When we do have an investigation, we strongly encourage all parties involved to keep details of the investigation strictly to the investigators," she says.
Too often, employees will choose to engage in personal attacks on abusers instead of reporting their harassment issue to HR. If a leader gets caught in the middle of a personal attack with their employees, the outcome could become much worse. For this reason, all employees should be proactively trained on the process of reporting sexual harassment to HR.


5. Address issues when they arise—and take them seriously.
Finally, it's essential that organizations create a culture of transparency where the boundaries are clear on what's acceptable behavior and what's not.
As Brock explains: "In some workplaces, inappropriate language and actions are dismissed because it's become 'the norm.' If something is happening in the workplace, report it and shut it down."
While it's common for employees to feel embarrassed or afraid in reporting an issue, it is necessary to pinpoint the source of a poor workplace environment and address the situation before it becomes a larger problem. This is why it's important for businesses to have a reputable PEO who understands HR policies and strategically guide leaders and in-house HR teams in handling misconduct issues.
At the end of the day, no organization is immune from workplace challenges. Yet, the more proactive leaders are in creating a zero-tolerance environment, the more everyone benefits.
If you have questions about your sexual harassment policy or seek additional training, call us today at 1.866.501.4942 or complete this submit form to explore how we can help.