An emerging trend that is certainly on the rise for HR is artificial intelligence, commonly known as "AI." Chatbots, more specifically, are computer programs designed to simulate a conversation with human users.
According to Wikipedia, a chatbot (also known as a talkbot, chatterbot, Bot, IM bot, interactive agent, or Artificial Conversational Entity) is a computer program which conducts a conversation via auditory or textual methods.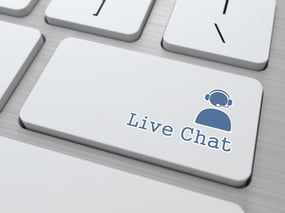 Gartner is predicting that by 2020, 55% of all large enterprises will have deployed at least one chatbot. According to Cruce Saunders, founder and principal at [A], chatbots are a new content-distribution channel that businesses can't afford to ignore.
If you stop and think about it, we're all in the habit of searching for answers via text now. And more and more we are starting to use our voices for these searches — think Siri, Amazon Echo, etc.).
So what does this mean for Human Resources? Employers and job-seekers alike are looking for ways to maximize time and energy. One of the key challenges for HR departments is being inundated with questions from employees. Imagine having a virtual assistant or coaching bot that can help lead employees to the correct answers, or help managers with personnel questions in real time. Now also imagine if management is tracking these requests and can spot trends based on what questions or concerns are communicated most frequently. Employers could then make business adjustments and improvements before issues grow too large to handle.
What about a managerial program based on intelligent insights that can help form young leaders within the company? These are just a few ways that you can increase the efficiency of the HR team through the use of artificial intelligence.
Chatbots are increasingly used in recruitment and are a great way to interact with promising candidates. At every age, job seekers are turning to their digital devices for answers. "Recruiters spend 60% of their time reading CVs," says Juergen Mueller, SAP's chief innovation officer. "Why should a person read 300 resumes if a machine can propose the top 10?" With automating menial tasks through streamlined AI technology, the recruiters' time to focus on overall company branding and culture strategy would be improved dramatically. This also empowers them to focus on future company hiring needs and forecasting, and not filling roles as they become vacant.
Can you imagine having the primary tasks of resume screening, sourcing and candidate matching removed from your responsibilities? This allows you to leverage AI technology to pinpoint the most qualified candidates while refocusing your attention back on your employee satisfaction and company engagement.
Sound intriguing? We think so too. Read more about several important trends we see impacting HR in the future.