How PEOs Help With a Business Exit Strategy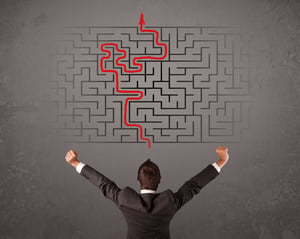 Every business owner knows they should have an exit strategy, because buying and/or selling a business can get pretty complicated, and they may be relying on a successful exit to retire or start their next venture. The thing is, keeping your business up and running, getting your work done AND ensuring you have a smooth, functioning exit strategy isn't easy. Usually business owners will develop their own organizational structure and internal office practices, and then hire employees to run them a specific way. This specific way is not usually the "right" way, but the way that the business owner has always done it and is afraid or overwhelmed by the thought of changing it.
Consequently, when it comes time to sell the company, the practices are familiar and sensible to the owner — but foreign, cluttered and confusing to any outsiders looking in. At this point, selling/buying the business is going to be way more complicated; what should be a smooth transfer of the business is now cluttered with questions, disorganization and doubt.
One thing a lot of business owners tend to overlook is the fact that PEO services make running a business — and creating an exit strategy — significantly easier. Outsourcing your HR – payroll, time and attendance, employee benefits, workers' compensation, applicant tracking and job posting, time-off requests, onboarding and employee life cycle (hire to retire), etc. — to a PEO not only frees up your time to focus on other aspects of your business, but it also makes the eventual transition of ownership smooth and stress-free.
Employer Flexible's PEO services will fully organize and manage your HR functions so that it's ultimately "pre-packaged" and ready to hand off to the next owner. From thorough, accurate record-keeping to an established track record of predictable costs — the inner workings of your HR department will be in tip-top shape without you having to spend the time to get it there. With your HR work in good hands, you can spend the time you save structuring and preparing other areas of your business so that it's operating smoothly and ready for you to make a clean, painless exit when the time comes. Several former clients of Employer Flexible who have successfully exited their businesses have said that our services helped them accelerate the closing process by up to 45 days.
Businesses using the services of a PEO are generally preferred by business brokers as well because they can add value to the business by creating less work for the current and potential owner (as we mentioned above) but also because a PEO can help lower the risk of potential employee-related liabilities while at the same time providing accurate and useful third-party documentation on employees.
Managing every aspect of a company while also ensuring you have a solid exit strategy takes a lot of time and energy. You could do it alone, but at the end of the day, is it worth it? Hiring a PEO will help your company be the compliant, well-organized and well-documented, low-risk, high-functioning business that a potential buyer will see as an asset. Let us help you. Reach out today.