On the heels of a disappointing April jobs report, the U.S. Department of Labor released a much-anticipated May jobs report on June 4 that showed an uptick in hiring, but overall numbers signify that the labor market is still lagging a heated-up economy.
CNBC said, "Job creation accelerated in May but is still below lofty expectations", while the Wall Street Journal termed the news as, "Hiring picked up in May but lagged behind broader recovery".
Key takeaways from the May 2021 jobs report included:
Nonfarm payrolls increased by 559,000 – up from the somewhat surprising revised 278,000 April numbers – but short of estimates of 671,000. For comparison, 785,000 jobs were added in March.
The unemployment rate fell from 6.1 percent in April to 5.8 percent in May, beating the expectations of 5.9 percent.
The leisure and hospitality sector led the new jobs with an increase of 292,000.
"Economists have been a little overly optimistic about the pace at which we're moving here. It takes a while for people to get jobs," Kathy Jones, head of fixed income at Charles Schwab, told CNBC.
Differing Views of the May Jobs Report
As can be expected, there were differing views of the May jobs report. President Joe Biden responded by saying "our plan is working" when the numbers were released.
"This is progress that's pulling our economy out of the worst crisis in the last 100 years," Biden said.
Republican House Minority Leader Kevin McCarthy, on the other hand, tweeted that "As we emerge from the virus, our economy should be booming, but today's lackluster jobs report shows President Biden's policies have stalled our recovery."
Those without a political iron in the fire, such as Matthew Luzzetti, chief U.S. economist at Deutsche Bank, called it a "middle-of-the-road report".
Luzzetti told the Wall Street Journal: "It is disappointing relative to where we were a few months ago, where we were anticipating you could see a million-plus type prints over these coming months. We have had to ratchet down our expectations about what job gains are likely to be going forward."
"Help Wanted" Signs Still Dominate Main Street
The May jobs report comes as "help wanted" signs across Main Street point towards potential workers remaining on the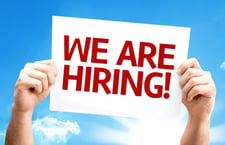 sidelines and not returning to work yet.
There are some 8 million vacant positions which some attribute to the current generous unemployment benefits, to child-care issues, and/or to lingering fears of returning to workplaces during the easing COVID-19 pandemic.
Department of Labor numbers released May 11 showed a record 8.1 million jobs available in the U.S. as of the end of March.
"Employers are looking to hire, but temporary factors are making people a little hesitant to take jobs," Nick Bunker, an economist at Indeed, told the Wall Street Journal. The growing number of available jobs "shows how difficult it is to turn openings into hires."
Labor Market on 2 Distinct Trajectories?
Nela Richardson, Chief Economist at ADP, dissected the numbers after the April jobs report and has a theory that the labor market is shifting along two different trajectories.
"On one hand, we still have 8 million workers sidelined by the pandemic. On the other, restaurant owners, manufacturers and other business owners nationwide report struggling to hire. There are 8 million people without jobs, how can these employers not find workers?" Richardson asked.
She continued: "There's something structural going on. The economy may have transitioned and shifted demand away from certain jobs. It could also have to do with the enhanced unemployment benefits. This is good long-term as it means people don't have to accept the very first offer and can pick the job that's right for them. In the short-term, this process could lead to worker supply shortages in certain sectors and industries. Last, there could be a skills mismatch in terms of openings and available workers."
Behind the May Jobs Report Numbers
The May jobs report released in the first week in June is based on two monthly surveys:
The household survey: measures labor force status, including unemployment, by demographic characteristics.
The establishment survey: measures nonfarm employment, hours, and earnings by industry.
The household survey data showed that the unemployment rate declined by 0.3 percent to 5.8 percent, and the number of unemployed persons fell by 496,000 to 9.3 million.
While these numbers are down considerably from recent highs in April 2020, they remain well above their levels prior to the pandemic of 3.5 percent unemployment rate and 5.7 million unemployed.
The number of long-term unemployed (those jobless for 27 weeks or longer) declined by 431,000 to 3.8 million in May but that figure is still 2.6 million higher than in February 2020 before the pandemic. Long-term unemployed make up 40.9 percent of the total unemployed.
Other notes from the survey:
16.6 percent of employed persons are still doing some sort of WFH, down from 18.3 percent in April.
Some 7.9 million persons reported that they had been unable to work because their employer closed or lost business due to the pandemic – having not worked at all or worked fewer hours at some point in the last four weeks.
2.5 million persons said they were prevented from looking for work due to the pandemic, down slightly from 2.8 million the month before.
Where the Jobs were Gained in May
While the leisure and hospitality sector is still down 2.5 million jobs or 15 percent from its February 2020 level, there were 292,00 new jobs gained in May broken down into the following areas:
Food service and drinking places: +186,000
Amusement, gambling, and recreation: +58,000
Accommodation: +35,000
Other areas that saw the most job gains in May:
Local government education +53,000
State government education +50,000
Health care and social assistance +46,000
Private education +41,000
Professional and business services +35,000
Information +29,000
Manufacturing +23,000
Transportation and warehousing +23,000
Future jobs reports are going to be closely watched and we'll provide updates on these as able. In the meantime, please visit Employer Flexible for more information on how PEOs can help small businesses hire, train and retain employees.