Post-Pandemic Storm Warning! Turnover Tsunami Predicted
After a year of navigating the uncertain waters of the COVID-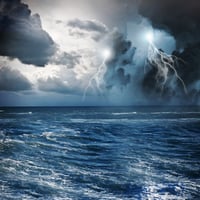 19 pandemic, business owners can be forgiven for wanting some clear sailing, but workplace experts are predicting a turnover tsunami in 2021.
"Employers were experiencing high rates of turnover prior to the economic shutdown triggered by the pandemic last spring, but since then, quit rates reached their lowest level in nine years," wrote Roy Maurer in March for the Society for Human Resource Management. "Retention and turnover experts now predict voluntary job-leaving will increase significantly in 2021 as employees resume job searches they put off for the past year."
Indeed, the research backs up Maurer with recent studies showing:
"Company leaders are still knee-deep dealing with the pandemic, but they have to look ahead to fend off a talent tsunami," Melissa Jezior, president and chief executive officer of Eagle Hill Consulting, said in a release. "Now that vaccinations are underway, there's light at the end of the tunnel for employees. We all are feeling a sense that work will return to some sense of normalcy and the economy will rebound. And that means employees again will feel confident looking elsewhere for a job."
Factors Leading to Tremendous Turnover
The tremendous turnover on tap for 2021 can be attributed to a variety of factors starting with pent-up job hunt demand resulting from workers staying put during the pandemic.
The Eagle Hill Consulting survey said: "Prior to March 2020 when the pandemic triggered an economic shutdown and massive layoffs, employers were experiencing high rates of job switching. But since then, quit rates reached their lowest level in nine years. Then between April and August 2020, the U.S. Bureau of Labor Statistics data show that the number of employee-initiated separations decreased by 27 percent compared to the same period in 2019.
Now, many industries can expect a resurgence of turnover as employees likely will feel they can make job moves that they have put off for the past year."
Another factor priming the turnover pump is that there is a record number of job openings in the U.S. with the Labor Department monthly Job Openings and Labor Turnover Supply series showing an increase by 998,000 job openings in April to 9.3 million total, the highest level since the survey began in 2000.
Pandemic a Watershed Workplace Event
The COVID-19 pandemic over the past 14 months has truly been a watershed workplace event with employees re-evaluating priorities in a new light.
Companies are trying to align new WFH and hybrid work models that meet employee's post-pandemic expectations.
The Pulse of the American Work Survey found that the 26 percent planning on looking for a different employer were do so because of:
Better work-life balance (27 percent)
Better compensation (26 percent)
Wanting to try something new (26 percent)
The Achievers Workforce Institute found similar responses in their survey with the top reasons for wanting to change jobs:
Better compensation and corporate benefits (36 percent)
Better work-life balance (25 percent)
Not being recognized for their work (16 percent)
Perhaps another factor driving turnover is that more workers are burned out and disengaged with their work, especially after a year based around remote work, with the Achievers Workforce Institute finding "71 percent more people are disengaged in 2021 than in 2020."
"Further complicating the issue for employers is that more than half of the workforce feels burnt out, much of which can be attributed to the COVID-19 work environment. This means employees may be even more motivated to make a move. Companies need to think differently and strategically about how they're going to hold onto their top talent. Otherwise, it will be even more difficult for a business to bounce forward in a post-pandemic economy," Jezior explained.
PEO Partnerships Can Help Navigate the Sea Change
Companies that run the risk of being swamped by the impending turnover tsunami will find there are many negative consequences of losing employees including:
Disrupted Productivity: Lag time between resignation and a new hire can cause a dip in productivity as short-handed staffing must pick up the slack.
Company Culture: Employees left behind are affected by turnover and constant change can be unsettling on your workforce.
Expensive Outlay: Replacing well-trained, experienced employees can be an expensive proposition and the training of new hires, even those with experienced resumes, can put a dent in HR budgets.
Given the importance that workers place on comprehensive benefits when it comes to engagement and job satisfaction, businesses can benefit from establishing a relationship with a Professional Employer Organization (PEO).
PEOs can help companies, especially SMBs, with a wide variety of benefits to employees through PEO-sponsored plans such as:
Medical, dental, and vision coverage
Healthcare flexible spending accounts
Life and disability benefits
Retirement savings programs such as 401(K)
PEOs not only allow companies to offer these benefits but they can help with employee retention helping workers understand and appreciate the benefits available to them.
With almost half of the workforce reevaluating their skill set during the pandemic, partnering with a PEO can give companies access to training programs and other HR tools that can help their employees with their education and new skills needs.
Contact Employer Flexible today to find out more about how a PEO can help your company with employee retention in a post-pandemic world.