The Benefits of Continuous Learning in the Workplace
Agile and Skilled Employees are Essential Components of a Workplace Today
The modern workplace relies heavily on employees who actively seek and quickly absorb new information. These agile and skilled employees can help your business thrive in today's fast-paced, highly competitive and continually evolving business world.
Skilled jobs are becoming more specialized, and employees and businesses need to stay ahead of the curve more than ever before. This is why digital training through learning-management software (LMS) is becoming popular. The time and money invested not only encourages employee retention and development, it may also directly impact your bottom line.
Highly skilled employees are a rare commodity. If you want your employees to bring their A game, then you need to create a culture that makes them inspired to do so. Still not convinced? Here are 4 great reasons to encourage learning in your workplace.
1. It Empowers Employees to Define a Career Path
Offering learning development opportunities lets employees know that you intend to keep them on staff for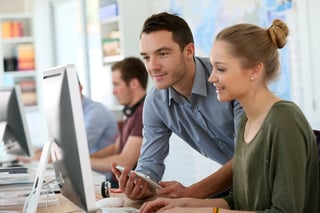 the long haul. Hiring internal candidates in a thriving learning culture just further reinforces the valuable investment that you are making in their career.
In the meantime, you won't need to worry that another company might lure them away. Instead, offer the training they need now for their dream job … the job they have. With continuous learning, you don't have to lose out on valuable talent retention and development.
2. It Allows Employees to Learn and Work Simultaneously for Less Stress and Greater Productivity
By facilitating an environment that nurtures continuous learning, you give employees the chance to learn and grow without worrying over the logistics of taking in the important information while staying on top of their regular tasks. This integrative approach allows employees to accomplish both goals — equally and simultaneously.
By offering training that is both relevant and timely, you can position each employee to learn skills that can help make their job more efficient and to streamline processes that may have been cumbersome in the past.
3. It Gives you a Competitive Edge That Stands the Test of Time
Products and services are being pushed out to consumers faster than we can process them. However, there's nothing that will ever take the place of people in a business. Creating a culture of well-informed employees will keep you ahead of the competition and on pace (or closer to it) with new information or technology. This empowers employees to be thought-leaders within the industry, and it could even help make shifts within the organization when necessary.
4. It Inspires a Collaborative Culture
You may quickly find that employees and managers more easily and proactively share crucial information that benefits your company, thanks to developing a formalized continuous learning environment.
With so many highly technical positions within a company, it's almost impossible to stay afloat on every facet of an organization. Fostering a continuous learning culture will help promote sharing relevant information that could be used to maximize efficiency and profitability — which ultimately benefits your bottom line.
Simply put, businesses that help their employees grow will get great value in return. Providing valuable training opportunities sends the message to employees that the organization cares about their future.
Read more about several important trends we see impacting HR in the future.