With the U.S. Food and Drug Administration granting full approval to Pfizer-BioNTech's COVID-19 vaccine on Aug. 23, the pressure is on businesses to mandate their employees receive a coronavirus shot.
Fox Business reported that President Joe Biden said after the approval: "Today I'm calling on more companies … in the private sector to step up the vaccine requirements that will reach millions more people. If you're a business leader, a non-profit leader, a state or local leader, who has been waiting for full FDA approval to require vaccinations, I call on you now to do that … do what I did last month, requiring employees to get vaccinated or face strict requirements."
200+ Million Pfizer Doses Delivered in U.S. Already
The Associated Press reported that more than 200 million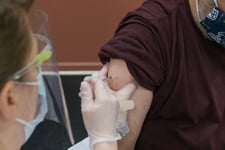 Pfizer doses have been administered in the U.S. under emergency provisions since December.
The FDA, according to the AP report, cited months of real-world evidence that serious side effects are extremely rare in granting full approval after considering Pfizer's 360,000-page application and rigorous inspections.
Dr. Jesse Goodman of Georgetown University and former FDA vaccine chief told the AP that the approval means the Pfizer vaccine meets the same "very high standards required of all the approved vaccines we rely on every day."
Economists Survey Says Companies Should Mandate Vaccine
The same day as the Pfizer vaccine FDA full approval, Fox Business reported that a survey of economists believed that "U.S. Companies should require their employees to be vaccinated in order to keep their jobs or return to the workplace."
The survey was conducted by the National Association for Business Economics (NABE) and found that:
79 percent surveyed were in favor of employers requiring their employees to be vaccinated against COVID-19 before they return to the workplace.
The NABE, which counts prominent economists among its members, collected survey responses from 227 of its members between August 2 and August 10, according to CBS News.
According to the CDC, 171.1 million people in the U.S. or 51.5 percent of the total population are fully vaccinated against COVID-19 and more than 201 million or 60.8 percent of the population have received at least one dose. Those vaccine numbers include:
Ages 12 and over: 60.3 percent is fully vaccinated and 71.1 percent with at least one dose
Ages 18 and over: 62.5 percent is fully vaccinated and 73.1 percent with at least one dose
Ages 65 and over: 81.2 percent is fully vaccinated and 91.4 percent with at least one dose
Small Business Taking a Wait-and-See Approach
The U.S. Census Bureau "Small Business Pulse Survey" found that small businesses across the country were taking a wait-and-see approach regarding COVID-19 vaccination workplace mandates with just 5.5. percent saying they are requiring physical vaccination proof for employees in mid-July.
That number, while low, was more than double the 2.2 percent that were requiring workplace vaccines in early April.
The latest survey also found that:
25.2 percent said the coronavirus pandemic had a "large negative effect" on business and 42.4 percent the pandemic had a "moderate negative effect".
1.4 of the businesses permanently closed a location in the previous week.
Net employment stayed about the same with 9.3 percent increasing paid employees and 9.1 percent decreasing paid employees.
Increasing Number of Big Companies Requiring Vaccines
Fox Business reported that ahead of the Pfizer COVID-19 vaccine approval by the FDA, some larger businesses were already requiring employees to be vaccinated.
"An increasing number of companies had been requiring their employees to be fully vaccinated before heading back to the office amid fears that the delta variant of the coronavirus will hinder the economic recovery," reported Fox Business.
On the same day as the FDA decision the following oil industry companies announced vaccination news:
Chevron said employees who live abroad or travel internationally as well as its offshore workforce in the Gulf of Mexico and some onshore support personnel will be required to be vaccinated.
Hess said workers at Gulf of Mexico operations will need to be fully vaccinated by Nov. 1 to enter the company's offshore facilities.
Oxy said it is requiring office employees to be vaccinated or to take weekly COVID tests.
Also on Monday, CVS announced that its nurses, care managers, and corporate staff will need to be fully vaccinated by Oct. 31 and that pharmacists working in CVS stores will have until Nov. 30 to be fully vaccinated.
"From the start of the pandemic, our decision-making process has been driven by health, safety and science," said CVS Health President and CEO Karen S. Lynch. "While the vast majority of our employees have chosen to be vaccinated, this decision is in direct response to the dramatic rise in cases among the unvaccinated."
In the Houston area, three large hospital systems, Houston Methodist, Memorial Hermann, and St. Luke's, have all required their employees to be vaccinated, according to the Houston Chronicle.
According to Fox Business and other media outlets the following companies had previously reported vaccine mandates:
Citigroup: Will require workers returning to its office in New York City and elsewhere to be vaccinated starting Sept. 13.
Delta Air Lines: Requiring all new hires in the U.S. to be vaccinated.
Equinox Group: Requiring members and employees to show a one-time proof of vaccination before entering any Equinox club or SoulCycle studio as well as corporate offices, starting in New York City in early September.
Facebook: Vaccinations will be mandatory for U.S. employees who work in offices with exceptions made for medical and other reasons.
Goldman Sachs: Every employee must state their vaccine status but not require proof.
Google: Anyone working on a Google campus will need to be vaccinated.
Lyft: All employees returning to office next year will have to be vaccinated.
McDonald's: All U.S.-based office workers will need to be vaccinated before returning to office.
Microsoft: All employees and guests entering Microsoft buildings in the U.S. will need to show proof of vaccination starting in September.
Morgan Stanley: Workers will need to disclose vaccination status but no mandates.
Netflix: Cast and crew members of the streaming platform's productions must be vaccinated.
Politico: Started requiring vaccination for those returning to office on Aug. 9.
Twitter: Employees wishing to return to office must be vaccinated.
Tyson Foods: All U.S. office employees must be fully vaccinated by Oct. 1. Other team members must be vaccinated by Nov. 1.
Uber: All U.S. employees must be vaccinated before returning to office.
United Airlines: U.S.-based employees must be fully vaccinated within five weeks of today, the first day of a fully approved vaccine by the FDA.
Walmart: Requiring employees at its headquarters to be vaccinated by Oct. 4.
If we can help you navigate through this or any other HR issues you face, please reach out.