Hiring and Retention: Benefits that Employees Appreciate the Most
A record number of workers are quitting their jobs at record pace across America making it difficult for employers to hire and retain employees during the COVID-19 pandemic.
The Department of Labor Job Openings and Labor Turnover summary released Oct. 12, 2021, showed that nearly 3 percent of the labor force, some 4.3 million employees, quit their jobs in August.
Nick Bunker, economist with job site Indeed, told The Washington Post that the "quits number" reflected the leverage workers currently enjoy in the labor market with job openings outnumbering unemployed Americans.
"This really elevated rate of people quitting their job is a sign that workers have lots of confidence and they have relatively stronger bargaining positions than they've had in the past," Bunker told The Washington Post.
Americans Quitting Their Jobs at a Record Pace
CNBC reported that the "quits" rate was the highest reported since tracking started in 2000.
"Quits have been seen historically as a level of confidence from workers who feel they are secure in finding employment elsewhere, though labor dynamics have changed during Covid-19 crisis. Workers have left their jobs because of health concerns and child care issues unique to the pandemic's circumstances," CNBC reported.
Industries hit the hardest by employees quitting included:
892,000 restaurants, bars, and hotels workers
721,000 retail workers
706,000 professional business services workers
534,000 health care and social assistance workers
The labor shortage has put the spotlight on employee wages and benefits.
In the past year, average hourly pay in the U.S. has risen 4.6 percent, according to Market Watch.
Findings from the 2020 Society for Human Resources Management (SHRM) Benefits Survey found that employers have enhanced benefits since COVID-19 struck, especially those benefits that support employees' physical and emotional health.
Benefits More Important Than Ever in COVID-19 Era
While employee benefits have always been important to the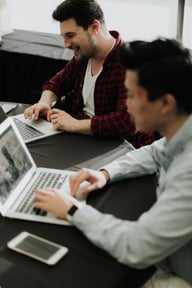 hiring and retention of top talent, these tangible and intangible extras have become more important than ever during the COVID-19 pandemic.
Prior to the pandemic, employers were already boosting benefits to win and keep top talent, according to the SHRM 2019 Employees Benefits Survey.
"Employers are enhancing their employee benefits to recruit and retain highly qualified and high-potential employees in a competitive labor market – even as they balance those costs against the potential value to the organization," SHRM reported a year ago.
Then the pandemic hit, and employee benefits became even more valuable as the labor market constricted.
"The COVID-19 pandemic caused many employers to revisit and revise their employee benefits last year," wrote the SHRM last month.
Employee Well-Being, Remote Work Benefits Top the List
The 2020 SHRM Benefits Survey, released in September at the SHRM Annual Conference & Expo in Las Vegas, received input from 2,500+ HR professionals across the U.S.
Responses were collected Sept. 28, 2020, thru Nov. 10, 2020, with supplemental responses collected May 17, 2021, thru June 28, 2021.
According to the survey, expanded benefits included:
Employee options for telework or remote work (78 percent)
Telemedicine or telehealth services (43 percent)
Leave to care for children (39 percent)
Leave to care for adult family members (27 percent)
Mental health services (25 percent)
"When COVID-19 began triggering states of emergency across the U.S. in March 2020, everyone needed more support, whether for managing remote work, caring for family members, or protecting their physical and mental health," Alex Alonso, SHRM-SCP, SHRM's chief knowledge officer told Stephen Miller. "Benefits that address such challenges were the ones more likely to have been expanded, with employers demonstrating ingenuity in their approach to serve others."
Top Employee Benefits in Value Shifts
The importance of employee well-being during the COVID-19 pandemic can be seen in those benefits viewed as most important.
While health care benefits remain on top of the list, retirement benefits, which in previous surveys always finished as runner-up to health care in importance, plummeted to No. 6 on the survey.
Flexible work, which is having its shining moment during the pandemic, rose to No. 2 in importance of employee benefits, tying with leave benefits.
Percentage of respondents that ranked certain employee benefits as extremely or very important:
Health care (90 percent)
Flexible work (83 percent)
Leave (83 percent)
Family friendly (76 percent)
Wellness (62 percent)
Retirement (55 percent)
According to SHRM, the share of organizations offering paid family leave increased 31 percent in 2020.
COVID-19 Puts Spotlight on Health Care Benefits
While health care benefits have always been front and center in employee hiring and retention, the COVID-19 pandemic, with its long-term financial and health impacts, has increased their importance across the board.
SHRM found that organizations expanded supplemental health benefits in almost all categories last year:
Critical illness insurance (Up 5 percent to 48 percent offering)
Hospital indemnity insurance (Up 6 percent to 32 percent)
Long-term care insurance (Up 6 percent to 39 percent)
Intensive care insurance (Up 8 percent to 25 percent)
Long-term care insurance for family (Up 5 percent to 21 percent)
Use it or lose it, flexible spending accounts (FSAs) are a health benefit offered by 68 percent of companies while 59 percent offer health savings accounts (HSAs).
Some 40 percent of employers contribute to HSAs for their employees.
What Employees Want in Benefits Going Forward
Many of the employee benefits being offered during the pandemic are here to stay.
Forbes looked at workplace benefits on the rise in May and found we can expect these benefits to be popular post-COVID:
Contact Employer Flexible today to find out more about how your company can offer the benefits that employees appreciate the most.