Most people have a love-hate relationship with meetings. They love productive meetings, but hate time spent away from their desks.
Then there is humorist Dave Barry, who has a hate-hate relationship with meetings, saying: "If you had to identify, in one word, the reason why the human race has not achieved, and never will achieve, its full potential, that word would be 'meetings'." With apologies to Barry, meetings are not going away any time soon.
In the age of COVID-19 and social distancing, most company meetings are now virtual, between employees from home or those at their desks connecting online with others inside their building. While hosting traditional in-person meetings might come second nature in business, hosting an effective virtual company meeting takes a bit more work.
UNC Charlotte professor Steven Rogelberg, who wrote the book "The Surprising Science of Meetings", says "[virtual meetings] can be clunky and ineffective, but they don't have to be."
Here are some keys to hosting an effective virtual company meeting.
No Agenda, No Attend-a
San Antonio-based business coach Rob Simons came up with the "No Agenda, No Attenda-a" rule to prevent people from wasting time in meetings without a clear purpose.
"Consider the cost of having a large group of teammates attend an hour meeting. Doesn't it make sense to have a plan going into the meeting instead of making it up on the fly?" said Simons.
Good meeting principles, such as having a defined agenda and clear objectives, apply to virtual meetings.
Remember the (Virtual) Pizza
While you won't have to order food for your virtual meeting, it might be a good idea to remember Jeff Bezos' 2-pizza rule. The Amazon boss said he would not attend a meeting if two pizzas wouldn't feed everybody attending.
Two pizzas may even be too much as Simons and others advise that the perfect size for a team meeting is four to five people. Just because you are not limited by seating in a conference room do not over-invite to your virtual meeting. Rogelberg recommends recording meetings so those not in the meeting can view them later.
Get Technical
Hosting a virtual meeting in 2020 is much easier than just several years ago but most people do not take full advantage of the technical bells and whistles that come with modern conferencing software. Unlike meeting in-person in a conference room, where you need to flip the light switch and are good to go, you will need to add in extra prep time to get a virtual meeting to start promptly.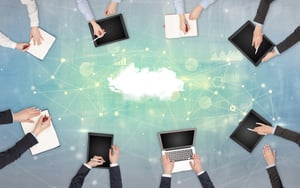 Simons recommends that hosts, and those attending, arrive 10 minutes early online for a virtual meeting. This allows time for software downloads and updates and other technical issues.
During the meeting, use chat room or instant messaging technology, to allow for the group to ask questions or comment during the meeting without stopping the flow of the meeting.
Consider connecting your audio for the virtual meeting via your phone instead of your computer audio. Connecting the audio via phone allows more bandwidth for your video feed and screen sharing during the meeting and serves as a fail-safe as you will maintain contact with the meeting even if your Internet goes down.
Encourage all those in the meeting to use the video option, and not just opt for audio only, as visual contact during the meeting will keep the person more focused. Take advantage of video during the meeting to ask for visual cues such as a "two thumbs up" from those in agreement on an issue.
Educate all virtual meeting participants on general guidelines for proper lighting and background for online calls.
Facilitate and Feedback
Pay attention to make sure all participants are actively engaged as it can be harder to keep track of reactions while not in the same room. For larger meetings, consider having a scribe, to track action items emanating from the meeting. A timekeeper can also help keep the meeting on agenda. Seek feedback from meeting participants to help fine-tune future meetings.
Employer Flexible is here for any and all things HR that you may need assistance on. You don't have to do it alone, let us help you manage your HR so you can focus on running your operation.