It is no secret that professional football is big business, but some people would be surprised how much NFL teams have in common with big companies such as Google and Amazon when it comes to measuring performances and using scorecards to target success.
Take the NFL 2020 season opener between defending Super Bowl champion Kansas City Chiefs and the Houston Texans, for example.
Sure, the ultimate scorecard will be the scoreboard, showing a final score with a winner and loser, but both the Chiefs and Texans will be tracking key performance indicators during the game that each team hopes will lead ultimately to their desired outcome.
Each team will have its own uniquely identified "objectives and key results" going into the game based on analytics from past performances. The metrics measured could be anything from total first downs to dropped passes to time of possession.
The coaching staff's game plan will identify these objectives and key results in advance and communicate them to the players. The metrics will be tracked closely during the game and staff and players will receive feedback after the game on how well they achieved these objectives.
Before the team focuses on the next game, individual players, units and even the coaching staff will receive grades on a scorecard for their performance.
Balanced Scorecards from OKR to EOS
All of this will sound familiar to anyone in business who has worked for a company that has used Balanced Scorecards or OKR (Objectives and Key Results) or EOS (Entrepreneurial Operating System) as a means for measuring performances.
Those are just some of the more popular ways to measure performances for employees, business units and companies.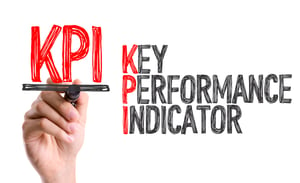 There are pros and cons to any measuring system or scorecard, but it is vitally important for you to have some way of measuring performance in place for your business to have success.
Otherwise, how will you develop strategic initiatives and long-range plans without understanding the keys to achieving your goals?
As business consultant Mike Brice puts it, "To create marketing plans which do not include metrics, scorecards and key performance indicators (KPI's) is a bit like rolling the bowling ball down the lane without keeping score: you get plenty tired and forget the point."
Business Strategy Expert Riaz Khadem agrees with Brice and stresses how important it is to have individuals in a company buy into utilizing a scorecard that tracks key performance indicators.
"Because the scorecard connects individuals to your company's vision and strategy, and when all the jobholders in a company have a scorecard, the entire company is aligned," Khadem says in his article "Why Every Employee Needs an Individual Scorecard".
Thinking back to our football players, the wide receiver for the Texans will understand his individual grade of "C" after the game if the scorecard includes the stat that he dropped two passes, which was a key performance indicator.
In the coming weeks, that same player, knowing what to focus on, in this case preventing dropped passes, may grade out at an "A" with a performance leading the team to victory.
"In the end, your scorecard makes the meaning of success tangible for your enterprise," says Dr. Bob Frost in his paper "Measuring Performance: Seven Good Reasons to Use a Scorecard".
Making Sense of the Alphabet Soup
You may not know your OKRs from your EOSs but there are some differences.
OKR has been around since Intel in the 197Os but is extremely popular currently with big tech with everybody from Facebook to Google to Amazon to Oracle using some variation of it.
While OKR is a framework, EOS is designed to be a complete business operating system, aimed at entrepreneurs and business leaders. It was developed by Gino Workman about 20 years ago.
Before EOS and OKRs current ascent there was the Balanced Scorecard concept developed by Dr. Robert Kaplan and Dr. David Norton in a 1992 Harvard Business Review article "The Balanced Scorecard – Measures That Drive Performance".
Whatever performance measuring method you choose, Employer Flexible is always available to help you with any HR-related needs.