Even before the COVID-19 pandemic, employee burnout was a growing problem for American businesses with Deloitte finding in a survey that 77 percent of U.S. corporate professionals had experienced burnout at their current job.
Since the coronavirus crisis, employee productivity has been sabotaged by burnout, not just at the executive level, but on all rungs of the company ladder.
"COVID-19 created a new reality for all of us. And with it comes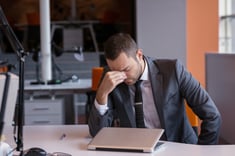 countless issues beyond sickness, death, and heightened unemployment. Recent studies confirm that while burnout was slowly rising, the pandemic fueled the fire, with a marked increase in workplace stress from 2020 through 2021," wrote Human Resources Today in June.
Indeed, the employment website, released a survey in March that found 52 percent of all employees were feeling burned out in 2021, compared to 43 percent in a similar pre-COVID survey.
Even with vaccination rates rising across the country, employee retention has become a concern with a turnover tsunami predicted this year as the past 16 months apparently have taken a toll on even the most grounded employees.
"Stress and anxiety have been at a fever pitch. We have been living in a toxic environment. Prolonged, unrelenting pressures tend to lead us to emotional, mental, and physical exhaustion," Jack Kelly wrote in Forbes.
Employee Burnout Causes
Rider University research says that "employee burnout refers to job-related stress that creates a sense of emotional and physical exhaustion and leaves the employee with a reduced sense of achievement and diminished self-identity."
In the Deloitte survey, the biggest drivers of employee burnout were:
31 percent said lack of support or recognition from leadership.
30 percent said unrealistic deadlines or results expectations.
29 percent said consistently working long hours or on weekends.
COVID-19 has made things worse, with 67 percent in the Indeed survey saying that burnout has worsened during the pandemic.
The Indeed survey also found that:
27 percent said they were unable to unplug from work because of a lack of boundaries in new remote work environments.
33 percent worried about paying monthly bills which added to their stress.
25 percent cited health concerns contributing to workplace burnout.
Rider University found that in addition to the external economic and societal issues, internal workplace stresses that can cause burnout include:
Lack of Job Clarity
Lack of Control
Dysfunctional Workplace
Poor Work-Life Balance
Consequences of Employee Burnout
Employee burnout can be a serious problem that not only affects employee productivity at work, but also the health of the employee.
The Mayo Clinic says ignored or unaddressed job burnout can have significant consequences such as:
Excessive Stress
Fatigue
Insomnia
Sadness, Anger, or Irritability
Alcohol or Substance Misuse
Heart Disease
High Blood Pressure
Type 2 Diabetes
Vulnerability to Illnesses
Rider University says that "Burnout isn't just a problem for individual employees. It can prove costly to entire organizations, sapping productivity and negatively impacting the bottom line. Consider some costs of employee burnout, according to Gallup: Employees experiencing burnout are 63 percent more likely to take a sick day and are almost three times more likely to be actively seeking a new job."
How to Spot Employee Burnout
Making sure employee burnout does not become a problem for your business requires both the employees and management to understand the signs of employee burnout.
For employees, the Mayo Clinic says they can take this self-assessment:
Have you become cynical or critical at work?
Do you drag yourself to work and have trouble getting started?
Have you become irritable or impatient with co-workers, customers, or clients?
Do you lack the energy to be consistently productive?
Do you find it hard to concentrate?
Do you lack satisfaction from your achievements?
Do you feel disillusioned about your job?
Are you using food, drugs, or alcohol to feel better or to simply not feel?
Have your sleep habits changed?
Are you troubled by unexplained headaches, stomach or bowel problems, or other physical complaints?
Answering yes to any of these questions is a sign of possible job burnout.
"One of the most important ways to mediate employee burnout is to be vigilant and alert to its signs and symptoms. Employees should be familiar with some of the most common signs of burnout so they can seek time off or to rebalance their workload as needed," says Rider University.
Managers can be on the lookout for signs of employee burnout including:
Increased Absenteeism: Employees suffering burnout often miss work, call in sick or show up late.
Drop-off in Workplace Quality: Poor work performance or quality can be a sign of employee burnout, especially a worker who starts making mistakes or errors they previously did not make.
Increased Cynicism: Employees suffering burnout will be increasingly vocal about their workplace displeasure and will not be optimistic about their company or position.
How to Battle Employee Burnout
The key to not letting employee burnout become a major problem is to treat it quickly.
Kelly in his Forbes article has 12 suggestions to battle employee burnout:
Share your feelings with family and friends.
Speak with your manager and try to work out acceptable work-life boundaries. Agree to set reasonable, achievable goals.
Step away from the computer. Take some short breaks during the day to clear your head.
Go on long walks, exercise, ride a bike, jog, play a sport or do some Yoga. Physical activity will make you feel better.
Go outside to absorb sunlight and fresh air.
Take up hobbies.
Ask for a few mental health days off from work.
Make vacation plans.
Start looking for a new job or different career.
Meditate, practice mindfulness, and do some deep breathing exercises.
Improve your diet and get a good night's sleep.
If you continue having challenges, seek out help from a professional.
Contact Employer Flexible today to learn how we can help manage your HR needs and minimize your employee burnout.